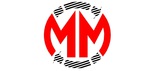 McKenzie Martin provides a range of fixed box louvres designed to act as a ventilation source either for inlet air or exhaust air. Individual units contain louvre blades which are mounted into robust box frames. They can be supplied as single units or they may be joined together to form banks of unlimited height and width.
Composition and finish
Louvres can be manufactured from the same material as adjacent metal cladding to give a colour and finish match. They are offered in a choice of materials including aluminium and steel, either with a mill finish or post coated. They can also be manufactured using pre-coated materials.
Aluminium alloy units in aluminium sheet to BS EN 485 or aluminium extrusions to 6063 T6 supplied in either mill finish or with a polyester powder paint finish (including Syntha Pulvin) with a wide choice of colours and gloss levels.
Steel units manufactured using corten or galvanised steel with a mill finish or with a polyester powder paint finish.
Pre-coated units manufactured using Plastisol, PVDf or Colorcoat coated substrates in a full range of colours.
Also available using stainless steel, zinc, copper or bronze sheet materials.
Manufacturing options
Top, bottom and side flanges may be formed to whatever mounting detail is required.
With flanged louvres, the box depth can be manufactured to fit inside or outside the building line as required.
Expanded metal bird guards, security guards or fly mesh can be fitted internally or externally as required.
Dimensions
Due to the made-to-measure nature of these louvres, together with a wide range of louvre blade sections, the units are available in an almost unlimited range of shapes and sizes including circular, triangular and semi-circular. Standard louvre blade pitches are 65, 90 or 112mm. Louvre blade spacings can be varied to provide a uniform appearance.
Installation
All units are suitable for mounting into cladding, glazing and brickwork with flanges formed to suit any mounting detail.
Related entries
McKenzie Martin was recently asked to provide fixed blade louvres suitable for installation under roller shutter doors. The client, a major door distributer and installer on the Isle of Man, requested some modifications to the company's standard design to allow for a new application. The custom louvres were provided complete with a removable...

Projects, 15 May 2018
More ventilation louvres by McKenzie-Martin
View all
Also by McKenzie-Martin
More products on BUILDING SERVICES
McKenzie-Martin address and contact details
McKenzie-Martin Ltd
Eton Hill Works
Eton Hill Road
Radcliffe
Manchester
M26 2US
Tel: 0161 723 2234
Fax: 0161 725 9531
View on map