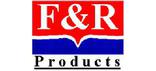 03 May 2018
Want a packaged dry air cooler with a small footprint? Contact F&R Products Ltd who offer a range from 3kW up to 200kW that can be designed for any application.
F&R specialise in tailor-made bespoke equipment. We also have a standard range ready for on-site installation with the minimum of pipework or electrical wiring.
F&R Products Ltd's range of packaged dry air coolers (otherwise known as air blast coolers) are supplied complete with integral pumps and tanks with duties ranging from 3kW to 200kW, ready for immediate connection to on-site pipework and electrical supply.
The standard range can be modified to suit customers' requirements with a wide range of options being available or other specific criteria required by the customer. F&R Products also supply a range of flat bed or 'V' block dry air cooler models as a free-standing entity or as a purpose made assembly, designed to suit specific sites complete with bulk holding tanks and pump sets.
For further information contact F&R Products Ltd on 01823 663281 or complete the enquiry form opposite.
F&R Products Ltd address and contact details
F&R Products Ltd
Unit 12
Blackdown Business Park
Wellington
Somerset
TA21 0BD
Tel: 01823 663281
Fax: 01823 664378
View on map