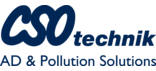 Sector
Utilities

Project type
New build

Services provided
Design
Product / system manufacture
Product / system supply
Installation

Year completed
2014

Project location
North West England

Client
United Utilities

Products used
Lackeby heat exchanger sludge / water

Context
United Utilities is one of the largest providers of water and wastewater services in the UK.
Runcorn WwTW, based in NW England, has an anaerobic digestion (AD) plant in process providing energy and heat from wastewater sludge.
A heat exchanger was required for the digestion process in the AD plant.
Work undertaken
CSO designed, supplied, installed and commissioned a Lackeby heat exchanger in stainless steel with external insulation and stainless steel outer cover to heat incoming sludge from between 31-33°C and maintain the average temperature at a constant 36°C.
Project data
Duty: 90m3/hr
Model type: VSV 100-210
Length: 3.6m
Related entries
Lackeby sludge / water heat exchangers are designed specifically to provide heat transfer from water to sludge. The heat exchangers are modular systems. In each module, the sludge flows in circular channels surrounded by a rectangular water circuit where the water flows in the opposite direction to the sludge. A patented turning chamber enhances...

Product, 12 March 2018
Also by CSO Technik
CSO Technik address and contact details
CSO Technik Ltd
Chequers Barn
Chequers Hill
Bough Beech
Edenbridge
TN8 7PD
Tel: 01732 700011
Fax: 01732 701050
View on map