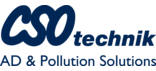 Sector
Utilities

Project type
New build

Services provided
Design
Installation
Commissioning

Year completed
2011

Project location
West Midlands

Client
Biffa Waste Service Ltd

Products used
Lackeby Heat exchangers

Challenge
A treatment plant at Cannock provides a waste disposal solution for packaged and unpackaged food waste. It has the capacity to handle up to 120,000 tonnes of food waste per year and generates up to 6.5 MW of electricity.
A heat exchanger for heat recovery was required in the AD facility.
Solution
CSO designed, suppied, installed and commissioned 4 stainless steel Lackeby Heat exchangers with external insulation and stainless steel outer cover for the plant.
Outcome
Heat was recovered from the digestion process.
Project data

Duty: 45 m3/hr
Application: Sludge / Water
Model Type: VSV 80-222
Length: 6.7 m
Also by CSO Technik
CSO Technik address and contact details
CSO Technik Ltd
Chequers Barn
Chequers Hill
Bough Beech
Edenbridge
TN8 7PD
Tel: 01732 700011
Fax: 01732 701050
View on map